Quality Assurance
OUR QUALITY POLICY & COMMITMENT:
Where quality and reliability count most – At the Finish
When your only products are Quality, Service and Technology, you have to be the best at all three. That is our commitment to our valued customers.
Our Philosophy:
The Quality Control function is a constantly evolving role whose primary objective is to supply our customers with services that not only meet our contractual obligations but exceed them as well. The execution of this objective is accomplished with participation of all employees, excluding none.
The success of AOTCO and its mission is achieved by a total dedication of all personnel in maintaining an effective quality management system, with full compliance to our own procedures and our customers' needs and continuous improvement in all aspects of our business.
Quality Objectives
1. Customer Rejects: Keep customer rejects below 1% of total jobs, while continuously seeking ways to lower further. To achieve this objective we will implement improvements, wherever possible, to address the top reasons for reject. This goal applies to monthly and yearly results.
2. On Time Delivery: Achieve 95% for On Time Delivery. Our goal is to maintain on time delivery along with achieving faster turnaround times to exceed customer's expectations.
These objectives will be continuously reviewed and expanded upon as determined necessary.
Matthew Smith, President
March 30, 2020
For reasons such as time and money many of our customers will waive lot testing on some processes. that require hours to do, for example thickness readings on Hardcoat Anodize. We do perform all these tests on a monthly basis and can forward any certification if needed. Please read this waiver for a more thorough explanation. If this is something you would like to do, please send this with your order or email it to lnason@aotco.com
---
See our latest Windows 7 Base Xray Machine below that gives the most precise readings and stands alone in the industry. Brand new state of the art equipment that will help put us above the rest in critical readings.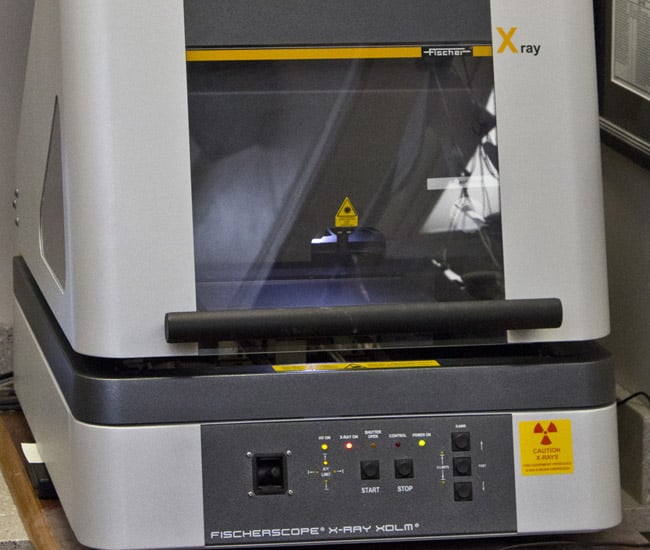 Customer Approvals
Bae Systems
Ball Aerospace
The Boeing Company
Collins Aerospace
General Dynamics Corp.
Honeywell Aerospace
L3 Harris Technologies
Lockheed Martin Corporation
Northrup Grumman Corporation
Parker Aerospace Group
Pratt and Whitney
Raytheon Company
Rockwell Collins
Rolls-Royce Corporation
Textron Systems
United Technologies Corporation