Purchase Order shall specify not less than the following:
AMS2482E
Basis metal to be anodized
Special features, geometry or processing present on parts that requires special attention by the processor
Quantity of pieces to be anodized
Classification
The processes covered by this specification are classified as follows:
Type 1 – PTFE-impregnated aluminum oxide
Type 2 – Codeposited PTFE and aluminum oxide
Thickness
AMS2482 designates finished coating thickness of 0.002 inch ± 0.0005 (51 µm ± 13). Other coating thicknesses may be specified designating the nominal thickness in thousandths of an inch (25 µm). A tolerance of ±0.0005 inch (±13 µm) in thickness of coating will be allowed. AMS2482-3 designates a finished coating thickness of 0.003 inch ± 0.0005 (76 µm ± 13).
Coating thickness requirements shall not apply to blind holes or recesses with depth greater than twice the diameter or in open holes with depth greater than seven times the diameter unless a specific coating thickness is specified in those areas.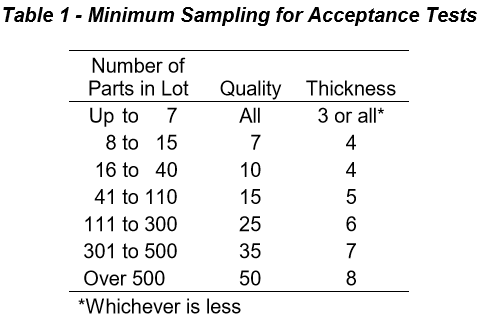 Considerations:
The anodize process can reveal the presence of metallurgical damage which had occurred prior to the submittal of parts to the anodize processor. Examples are:

Damage from improper welding
Weld repair of castings after final heat treatment
Incorrect initial heat treatment
Raw material chemical segregation
Other prior metallurgical conditions which may be detrimental to the final use of the component.

The purchaser or cognizant engineering organization may elect to place such components on material review pending further testing or analysis.
The anodizing processor shall not be responsible for the presence of these types of metallurgical anomalies occurring prior to submittal of parts for anodizing.