Archeological Discovery Shows AOTCO's History of Metal Plating
Cuneiform Tablet Expands Our Understanding of Ancient Sumeria
BILLERICA, MA., Apr. 1, 2022 /AFD Newswire/ —
Upon opening a long-disused closet door, employees of Boston-based company AOTCO Metal Finishing, LLC ("AOTCO") recently discovered an underground cavern filled with surface finishing records dating back much farther than they imagined. After sifting through layers of records on mimeographs, medieval-era palimpsests, papyrus scrolls and other ancient documents, the team found what appears to be the world's oldest metal plating work order.
"It was right there under a pile of scrolls written in Old Aramaic, just next to a small statue of the Sumerian goddess Inana" says Quoting Specialist Meryl Velazquez while absently brushing cobwebs from her pith helmet. "We couldn't believe it when we saw this ancient tablet with oddly familiar wedge-shaped symbols."
After contacting the Antiquities Museum at the nearby Massachusetts Institute of Technology, the 8-by-17.3 inch, seven-pound tablet was authenticated and dated to the Early Bronze period, the late third to early second millennium BC.
"It's really a remarkable piece of luck that we were able to get the piece translated in time for April 1st" says AOTCO President Matt Smith. "We have quite a number of customers we've been working with for many years, decades even, so we never throw out old job cards. But I honestly had no idea that our records extended back quite that far."
According to Dr. Randolph Cadwallader of MIT's Antiquities Museum this particular piece says:
"Thanks again for your tireless efforts to find solutions to the metal plating needs of our exalted ruler King Enmebaragesi. Because the last batch of bronze spear tips worked so well to vanquish our enemies, we will now require an additional 1675 Bronze PJTs during each turning of the moon to be ready for the fall campaign against the peoples of Elam."
Dr. Cadwallader continues, "We've never seen the acronym 'PJT' before but we think it stands for 'Pointy Jabby Thingys.' While this language might appear comically imprecise to our modern ears, one must recall that our Early Bronze Age forebears were still working out new linguistic mechanisms to describe metal objects and how they were used."
Interestingly, the cuneiform writing continued onto the back side of the fired clay tablet, bearing this additional message:
"AOTCO was the only metal finishing supplier able to meet our tight deadline as the enemy troops approached. We appreciate your commitment to both timeliness and quality in helping us meet our objectives."
Dave Calvetti, Quality Supervisor, remarks "At AOTCO -- which stands for 'Always On Time Company' -- we pride ourselves on working collaboratively with customers to problem-solve, while simultaneously meeting the highest quality standards, and often under strict time constraints".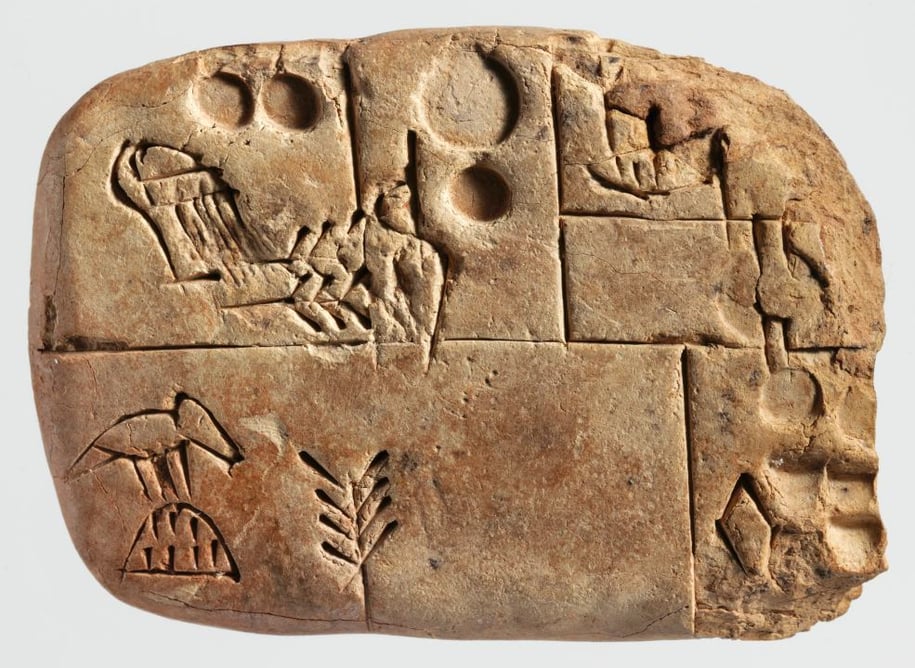 Sumerian for "Always On Time Company"
But not all mysteries have been answered. "It's odd that the number of Bronze PJTs ordered, some 1675 pieces per month, is actually the Fahrenheit melting temperature of bearing bronze," muses Chris Osborn, part of AOTCO's R&D Group, the company's collection of metal finishing experts. "These days we plate more than 25 metals and alloys, and employ dozens of finishing processes, so I'm curious to see what else we might find in this newly re-discovered database."
President Matt Smith concludes, "As evidenced by this recent find, AOTCO has a long, long, LONG history of delivering in the clutch for our military and high-tech customers. Whether we're in the air, under the sea, in space, or on the dusty plains of the Fertile Crescent, we take pride in seeing our partners' achievements, because success at the finish never goes out of style."
ABOUT AOTCO METAL FINISHING LLC
With a reputation for outstanding quality and speedy turnarounds, Boston-based AOTCO Metal Finishing is leading provider of specialty electroplating, anodizing, and other metal surface finishing services. Serving the Aerospace, Automotive, Defense, Electronics, Medical, Optical, and Telecoms industries since 1975, NADCAP- and ISO 13485-accredited AOTCO is known for handling critical jobs and complex jobs, including multi-finish plating, complicated masking, parts with complex geometries, exotic substrates, and more. Through its research and development group, AOTCO Labs, AOTCO works closely with research-driven organizations to develop new processes and troubleshoot and resolve complex plating problems.
Please visit www.AOTCO.com to find out more about how our plating of Bronze and other metals can meet your critical and complex finishing needs. Or drop us a note at sales@AOTCO.com to discuss your specification requirements.
P.S. While King Enmebaragesi did rule in ancient Sumeria, AOTCO was not involved in any way with his war against the city of Elam. In fact, AOTCO was founded in 1975 so we still have a way to go before we need to order a birthday cake with 5000 candles. Happy April Fools Day!