Gold Electroplating
From the ancient Mycenaeans who created it to Heinrich Schliemann's rediscovery of the famous "Agamemnon's Mask" some 3500 years later Gold has captured the imagination and desires of rich and poor alike across the ages.
In addition to the metal's well-known aesthetic properties and monetary store of value, Gold also brings many desirable and useful attributes to industrial and scientific products.
As with plating other materials, Gold Electroplating is the deposition of a thin layer of Gold onto the surface of another object. Although more expensive than many other plating materials, the many superior benefits of Gold often outweigh the added expense.
AOTCO plates all typical gold types (Type I-III, 99.7%, 99%, and 99.9% gold) for both hard AND soft gold. Hard and soft gold can be differentiated by the following:
Soft Gold
Soft Gold is the go-to option when requiring one or more of the following applications or properties:
High Gold Purity

High Corrosion Resistance

Solderability

Wire Bonding
Soft Gold has fewer metal impurities compared to Hard Gold. This provides higher corrosion resistance while optimizing the deposit to eliminate high temperature oxidation.
Hard Gold
In contrast, Hard Gold is the better choice when a plated part is subjected to mechanical forces. The impurities strengthen the hardness of the deposit, but as a result this slightly reduces solderability/ wire bonding/ high temp oxidation resistance in comparison to Soft Gold.
Benefits
Corrosion protection

High tarnish / oxidation resistance

High electrical conductivity

High thermal conductivity

Infrared reflectivity

Improved wear resistance

Low contact resistance

Excellent solderability

Bondable

Customizable aesthetic appearance
Select Applications / Industries
Electronics

Semiconductors

Jewelry making

Medical / Dental

Optical
Physical Properties / Specs
Coating Thickness:

Dependent on the Class called for

Generally ranges between .00002 and .0015 inches minimum

Class 00 – .00002 inches minimum

Class 0 – .00003 inches minimum

Class 1 – .00005 inches minimum

Class 2 – .0001 inches minimum

Class 3 – .0002 inches minimum

Class 4 – .0003 inches minimum

Class 5 – .0005 inches minimum

Class 6 – .0015 inches minimum

Hardness

Dependent on the Grade called for

Grade A – 90 Knoop maximum

Grade B – 91-129 Knoop maximum

Grade C – 130-200 Knoop maximum

Grade D – 201 Knoop and over

Aesthetic Appearance:

Yellow to orange color depending on the finish of the underplating materials and the process used

Finish will range from matte to bright depending on the substrate material
Substrates
Ferrous: All ferrous alloys including many Steel alloys

Cuprous: Pure Copper and all cuprous alloys including Copper Molybdenum, Copper Beryllium (BeCu), Copper Tellurium (TeCu), Brass & more

All Aluminum Alloys Including Wrought, Cast and Proprietary Alloys (MIC-6)

Exotics & Others: Inconel, Kovar, Monel, Tellurium, Magnesium, Nickel, Lead & more
Underplates
A layer of nickel (whether it be sulfamate or electrolytic) typically is applied between gold and the base material (substrate). The chosen underplate material has a direct impact on the luster of the gold finish. Sulfamate Nickel is typically more matte, meaning the gold deposit will also be matte. Electrolytic nickel yields a brighter deposit, making the gold deposit a brighter gold finish.
Electrolytic Nickel

Electroless Nickel

Sulfamate Nickel

Copper

Silver
Pre-Treatments Available
Mechanical Cleaning

Custom Masking

Chemical Films

Hydrogen Embrittlement Stress Relief
Post-Treatments Available
Laser Marking

Engraving

Chemical Films

Hydrogen Embrittlement Stress Relief
Types & Grades
Types – I, II and III (in both Soft and Hard formulations)

Grades – A, B, C, and D

Classes – 00, 0, 1, 2, 3, 4, 5, 6
Specs & Certifications
AMS 2422 --- ROHS Compliant

AMS 2425 --- NADCAP Approved, ROHS Compliant

ASTM B488 --- NADCAP Approved, ROHS Compliant

MIL-G-45204 --- NADCAP Approved, ROHS Compliant

MIL-DTL-45204 --- NADCAP Approved

Various company specifications
Please Note
If the hardness grade for the gold coating is not specified Type I shall be furnished at hardness Grade A, and Type II shall be furnished at hardness Grade C

For soldering a thin purity soft gold coating is preferred
Contact Us
Depending on your end goals one of AOTCO's range of Gold Plating processes could be an excellent option for your surface finishing needs. If you have a unique part, specialized needs or simply want to work with the best, please reach out and let us know how we can help you achieve the results you need.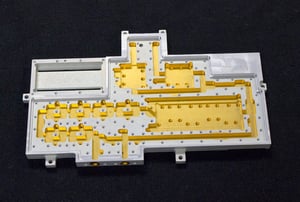 For help identifying the type of Soft or Hard Gold and underplating substrate for your job

s
imply
contact us to get things started.