What is QQ-P-416?
Each plating or metal finishing process has its own correlated spec(s). The federal standard for cadmium plating, QQ-P-416 includes three types (I, II, III) as well as three classes (1, 2, and 3).
Under QQ-P-416 types are used to identify if post-treatments are required, and classes determine thickness minimums.
The Benefits of QQ-P-416 Cadmium Plating
Cadmium is an aesthetically pleasing metal finish that provides an oxidation resistant coating that extends the lifetime of the components it is covering. It is often referred to as a "sacrificial coating" due to Cadmium's ability to corrode before the substrate metal it is encasing. This makes Cadmium an excellent protective casing for substrates that may be subject to highly corrosive or oxidized environments.
Cadmium's thickness can be adjusted, making it a valuable coating for highly specified parts or intricate geometries. A Cadmium finish is also great for parts that may experience high friction as Cadmium has natural lubricity causing low surface friction.
QQ-P-416

Technical Notes
Purchase Order shall specify not less than the following
QQ-P-416E
Type
Class
Lot hydrogen embrittlement testing if required (see 4.4.2) and sampling
Basis metal to be plated
Tensile strength or hardness of the basis metal
Pre-plate stress relief to be performed by plating processor (time and temperature)
Special features, geometry or processing present on parts that requires special attention by the plating processor
Hydrogen embrittlement relief to be performed by plating processor (parameters or reference document)
Quantity of pieces to be plated.
Types
I – As plated
II – With supplementary chromate treatment
III – With supplementary phosphate treatment
Classes
1 – 0.0005 inch, minimum
2 – 0.0003 inch, minimum
3 - 0.0002 inch, minimum
Unless otherwise specified, parts having an ultimate tensile strength greater than 200 ksi (HRC 43) shall not be plated in accordance with this spec.
Steel parts which have been machined, ground, cold-formed, or cold-straightened after heat treatment, shall be stress relieved in accordance with Table 1 or Table 1A, as applicable. Stress relief shall precede shot peening, cleaning, and plating for relief of damaging residual tensile stresses. Stress relief is not required for fasteners if all cold working is limited to cold working of the head-to-shank fillet and thread rolling after heat treatment.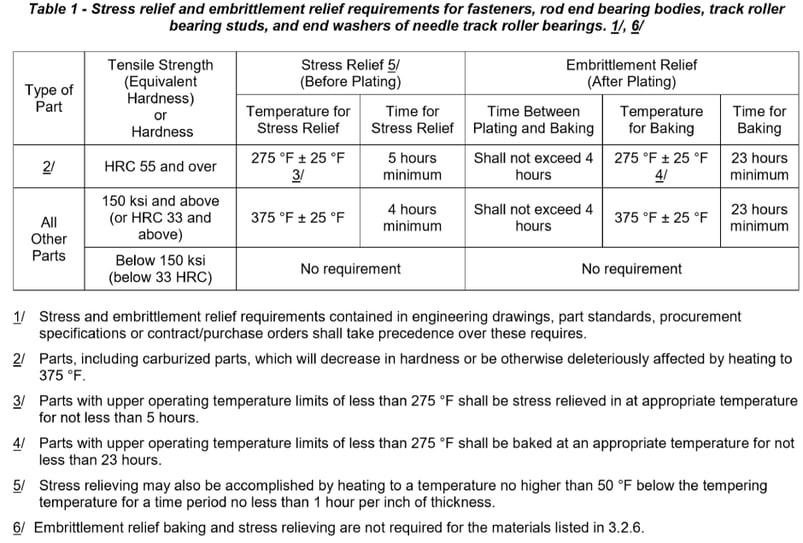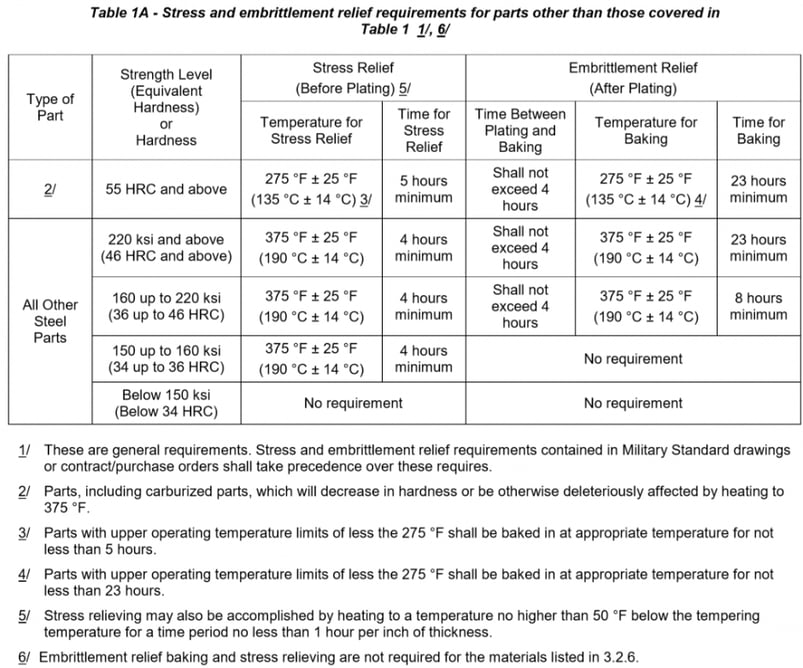 Hydrogen Embrittlement Relief Treatment
All parts shall be baked within 4 hours after the plating operation is completed as specified in Table 1 or Table 1A, as applicable. Plated springs and other parts subject to flexure shall not be flexed prior to hydrogen embrittlement relief treatment. In the case of Types II and III treated parts which require baking, the baking treatment shall be done prior to the application of the supplementary coatings. Cadmium plated surfaces passivated as a result of the baking operation shall be reactivated prior to receiving the Type II supplementary chromate treatment. The following alloys are not considered susceptible to hydrogen embrittlement from the cadmium plating process, and therefore do not require the hydrogen embrittlement relief treatment (see Tables 1 and 1A), or the hydrogen embrittlement relief test:
UNS S66286, UNS N07718, UNS R30159, UNS R30035, UNS N04400, UNS N06600, UNS N07750
300 series austenitic stainless steels
Aluminum, and aluminum alloys.
Plating Application
The plating shall be applied after all basis metal heat treatments and mechanical operations, such as machining, brazing, welding, forming and perforating of the article, have been completed.
Underplating
Cadmium shall be deposited on the basis metal without a preliminary plating of other metal, except in the case of parts made of corrosion resistant alloys on which a preliminary plating of nickel or copper may be necessary, or on parts made of aluminum on which a preliminary treatment, such as the zincate process or preliminary plating of copper or electroless nickel, may be necessary.
Statement on Luster/Brightener Options
When determining luster/brightener usage/capabilities, there are multiple factors to consider; along with strict requirements depending on part characteristics. Please contact AOTCO where we will take the time to work through these parameters and determine how they pertain to your specific part(s).
Supplementary Treatments
Type II – not subsequently completely coated. Chromate treatment. Colors: Bronze, brown, olive drab, yellow, and forest green. Objectives are to prevent white corrosion spots and prevent finger marking.
Should NOT be used if parts will be continuously exposed to 149F or higher, or intermittently exposed to 300F or higher.
Type III – subsequently completely coated. Phosphate treatment. Produces tightly adherent film conforming to Type I of TT-C-490.
Primary objective is to form a coating base. Phosphate finish is preferred for parts that will subsequently be completely coated.
Packaging Limitations
Cadmium plated articles should not be packed in non-ventilated containers, either together or in contact with electrical equipment, because of the danger of deleterious effect on cadmium plating from unstable organic electrical insulation. In addition to organic electrical insulation, phenolic resinous substances and others containing unsaturated carbon-to-carbon linkages, such as oil, paint and impregnated paper, etc., cause an abnormal attack on cadmium by setting free, in the presence of moisture, formic acid, butyric acid, etc. Corrosion of cadmium coatings and steel basis metal has been noted when cadmium plated articles have been packaged in direct contact with container materials such as wood or cardboard. Corrosion has been especially severe if the container materials have become wet or have been stored under conditions of high humidity.
Ready to get started?
Talk to an industry expert about the best solution for your application.
Join AOTCO at D2P Mid-Atlantic in Oaks, PA 2023
Cool fall weather has arrived to Philadelphia and that means it is time to get ready for cheesesteaks, hoagies, Philly soft pretzels, and fun at the Mid-Atlantic...
Join AOTCO at Hydrogen Americas Summit 2023 in Washington, D.C.
Join AOTCO Metal Finishing at the Hydrogen Americas Summit 2023 in Washington, D.C. Stop by our booth, A02, on October 2-3 to learn about our clean energy solutions.
Join AOTCO at D2P Marlborough 2023
Fall has arrived to New England. That means it is time to get ready for apple cider, donuts and fun at the New England Design-2-Part Show. Join AOTCO Metal Finishing at...
Electroplating
Anodizing
Passivation
Plating Substrates
Pre- & Post-Process Treatments
Dedicated Outsourced Finishing