Benefits of Being ISO 9001:2008 & AS9100 Registered
To be prominent in the metal finishing industry, it's essential to hold national accreditations that solidify the pride and professionalism a company has in their product. ISO 9001:2008 & AS9100 Quality Management Systems focuses on quality policies and objectives to meet consumer requirements. This system tracks the organizational structure, policies, procedures, processes, and resources needed in order to ensure a company can qualify as ANAB certified, which promises the safety and quality of goods and services being provided. There are benefits to knowing a company you are working with is ANAB ISO 9001:2008 & AS9100 registered and certified, and here's what it promises you as a customer.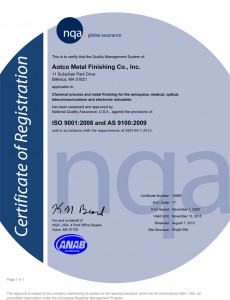 1) Increases efficiency, quality, consistency, and cost savings
2) Allows critical examination of employees and their interaction between functions
3) Establishes process for future operations
4) Better documents procedures, methods, and responsibilities
5) Increased employee awareness
This accreditation benefits both the businesses certified and customers involved with these companies. Knowing you will receive quality products, as fast as they can be created, with the promise of dependable craftsmanship means you have a business you can rely on. Metal finishing companies work with some of the biggest businesses in the world, such as aerospace and the military, and knowing your product can within stand stressful environments allows their employees to do their job without worry.
AOTCO Metal Finishing Company Inc. is not only ISO 9001:2008 & AS9100 registered and ANAB certified, we also hold other accreditations that promise you will receive quality product from our location in Billerica, MA. If you have questions about our accreditations or wish to speak to our experts, give us a call today at (978) 667-8298.