Electroplating with NADCAP certification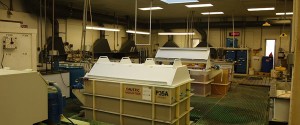 What does the Society for Automotive Engineers, established in 1905, have to do with your electroplating and metal finishing needs? In the early days of automotive engineering and manufacturers, there was widely disparate quality of service and products. Recognizing this, a handful of engineers and industrialists, most notably Henry Ford as Vice President, formed the group with the express goal of cooperating to establish the best technical standards and solution. By 1916, it had expanded to include all mobility related professions including the new field of aeronautics. As of 2010, the society serves more than 120,000 members. Then, way back in 1990 the aerospace industry advanced an organization to assess, audit and accredit suppliers using a strict standardized approach to quality assurance. Prior to this aerospace companies audited their own suppliers leading to somewhat inconsistent results. This new organization immediately led to a reduction in duplicative efforts, superior quality products through stringent requirements, and in-depth technically superior standards. This organization is called NADCAP or National Aerospace and Defense Contractors Accreditation Program. AOTCO is proud to be accredited by them and to display their logo on our website. Our metal finishing and electroplating meets the highest standards in aerospace and other technical fields. We feel it is important for clients to understand the seriousness with which we take the quality of our services. The foremost technicians in the most demanding fields have certified AOTCO as meeting rigorous technical standards.
AOTCO wants you to know how important the quality of our service is. These are not just meaningless logos splayed on our webpage or useless accolades. The craft and science of electroplating and metal finishing has passed the most rigorous standards the industry has, and this is worth celebrating. Let us know how we can help you in your next project. Contact us at 888-275-0880 or 978-667-8298 for more information.