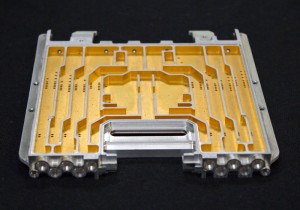 As a premiere gold plating company in Massachusetts, AOTCO has worked to take every necessary step and ensure the work we are completing with each customer and their individual projects. Working with so many companies and businesses means we know and continue to learn about the benefits of gold plating, and what it means to be able to stand behind the work we accomplish every day. Being NADCAP accredited and our compliances with ROHS holds us to the highest of standards while using various levels of gold plating for nearly any industry.
Along with those high sets of standards, there are also several industry-specific standards for different anodizing and plating processes. These standards are often referred to as "specs" in the industry and are used as a way of easily identifying what a client expects from our processes. While they typically contain proper practice regulations and standards, they also help us quickly identify what types and classes of gold are expected to be used.
Gold Plating Spec Mil-DTL-45204
When it comes to our clientele, AOTCO is constantly working with the best organizations in the business and accommodating their gold plating needs. Since gold itself has such a wide variety of uses and qualities, our range of gold plating work is especially extensive. Gold plating is highly important for military use.
MIL-DTL-45204 is the gold standard military spec
is followed by our employees for each application. Used for its high corrosion resistance, conductibility, and solderability, we offer a variety of classes, grades, and types with specified thickness for every individual project.
We provide MIL-DTL-45204 spec for many of our customers in the military, defense and advanced technology sectors. By following these highly detailed specifications and being ITAR registered, AOTCO continues to support the US Military and provide our Defense and Aerospace industry partners with exceptional, detail-precise metal finishing work. Dealing with high-pressure and unpredictable scenarios along with often harsh or extreme conditions, AOTCO follows the MIL-DTL-45204 spec diligently.
Other Gold Plating Specs
In addition to plating the MIL-DTL-45204 spec, AOTCO delivers many other gold plating specifications for other industries, machine shops and advanced manufacturers. Industry specific gold plating specs can be found for engineering use, electrical application, aerospace and other commercial uses.
ASTM B488 (engineering use)
AMS-2422 (electrical application)
AMS-2425 (aerospace)
M-G-45204 (other commercial uses)
Much like our work in the defense industry, the aerospace industry has a rigorous set of quality standards that needs to be followed. Plating exactly to spec is imperative as it ensures quality, functionality and safety. Our engineers and platers are proud of our attention to detail, and we ensure that jobs are done right and delivered on time so that we can earn the trust of our partners.
AOTCO Metal Finishing understands, respects and values the importance of our work plating gold to military specification. We pride ourselves on our commitment to follow and deliver the highest quality work that our clients in the aerospace industry require.
If you're interested in our gold plating or are looking for a gold plating quote for your next project, give our experts a call today on (888) 275-0880 to learn about your options.