Our Quality Starts at Our Suppliers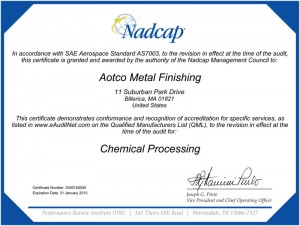 At AOTCO, we're proud of the accomplishments we've had as a gold plating company in Massachusetts. From our NQA certificate of registration to our NADCAP accreditation to our quality assurance, we are excited to tell our customers about the work we do and how we can meet their needs. We don't hold these standards just in our workplace, we also hold high standards for our suppliers.
Our contracts outline the detailed and specific standards of product that we hold in our own warehouse, and complete our continuous goal to give our customers the best product possible. In the case of any changes that occur in procedure, equipment, subcontractors, or could alter the outcome of our product, our suppliers are to contact AOTCO and be approved by our Quality Assurance Manager.
Our customers and applicable parties also have access to non-proprietary records that pertain to their order which are maintained for 5 years after completion, allowing complete transparency between all parties involved with the creation of a product. In the chance nonconformance materials, suppliers must be presented to AOTCO, where we will immediately begin working towards a resolution for our customer.
These standards are to be followed by our suppliers, their subcontractors, and other related relationships that result in product or services being given to AOTCO. We rest well knowing our products are maintained at the highest quality we can get, and we hope you feel the same way.
If you're in need of gold plating or metal finishing in MA that follows every industry standard and more, give us a call today at (888) 275-0880.