Aluminum Silicone Carbide Metal Finishing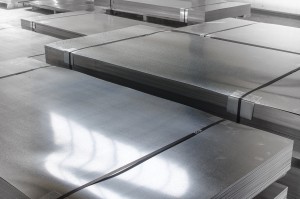 At AOTCO, we offer a wide range of materials and substrates from which to choose. For a full list, please visit our Materials/Substrates page. If there is a material that you would like to work with that is not on the page please call and speak with us. We relish the chance to work with new and interesting materials and for new and interesting ways to satisfy our customers. Some of the materials are familiar to most people. The application of bronze, as an example, has an entire age named after it. Other materials, such as Aluminum Silicone Carbides (AlSiC), might be new. AlSiC is a metal composite consisting of a ratio of Aluminum matrix with silicone carbide particles. A metal matrix composite is a composite material of at least two constituent parts. The first being aluminum. Aluminum makes up anywhere between 37%-63% depending on the formulation of AlSiC and the other constituent is the Silicone Carbide. The varying ratios of Aluminum to Silicone Carbide can be used to match the thermal expansion of gallium arsenide, silicon, indium, and a host of other materials, many of them particularly important in the electronics field.
AlSiC composites can be used in place of other materials like Copper-molybdenum or Copper-Tungsten. AlSiC have about one-third the weight of Copper and between 30%-15% the weight of heavier alloys. At the same time, they make remarkable heat sinks, heat spreaders, housing for electronics, substrates, and inserts and channels for coolant. The material is very stiff, lightweight, and strong making it ideal for any number of applications. The composite is fully dense. In other words, it has no voids. However, the aluminum and the Silicone Carbide have different thermal expansion coefficients. This results in a high number of dislocations, or irregularities, in the crystal structure. This allows the resulting composite to be both lightweight and very strong.
If you think AlSiC might be helpful to you let us know. Otherwise, be sure to peruse our other materials and solutions available. Let us know how we can help you in your next metal finishing project. Contact us at 888-275-0880 or 978-667-8298 for more information