Benefits of Electroplating for Conductivity
Many clients we work with who utilize our metal finishing in Massachusetts are in need of results that can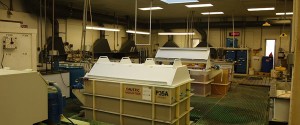 protect their electrically conductive surfaces. Since 1975, we have been meeting our customers' strict guidelines and requirements for metal finishing and work in a variety of fields including Optical, Aerospace, Telecommunications, Medical, and more. AOTCO can think of many benefits our electroplating can offer your projects now and in the future.
Durability
Depending on the substrate chosen, electroplating can increase the strength of your product significantly. Though every finish can create different results, some of the most common are increased hardness, corrosion resistance, heat resistance, and abrasion prevention. We offer a number of plating processes and are welcome to the idea of researching new materials to use in the future for our customers' needs.
Protection
Electroplating is an ideal way to enhance the protection of your project because of the many benefits that increase its durability. Outside elements that can cause corrosion and other wear are more easily prevented, which ultimately helps with replacement costs in the future.
Improves conduction
Electrical conductivity can be kept to the highest standard. Problems like corrosion and regular wear and tear can ultimately impact their conductivity, which often defeats their use and purpose. By taking steps to protect the components of your project that require electrical conductivity, you will ensure longevity and superior performance.
We understand that every project requires unique specifications and guidelines, which is why we offer services like precision masking for plating, pre-process treatments, and more. Our experts can help you determine exactly what metal finishing you need for your next project to provide the best services possible.
With more questions about our finishing and how we can help you, please contact our professionals today by calling (888) 275-0880.