Why Gold Plating for Aerospace?
Why Gold Plating for the Aerospace Industry?
For anyone in the Aerospace industry, gold plating is essential,
as it provides functionality, practicality,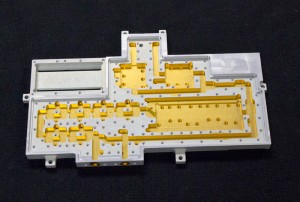 and effectiveness in its applications. AOTCO is a Massachusetts-based company that has been supporting these requirements and needs since 1975. On top of offering superior quality management systems, gold plating simply provides aerospace products benefits unmatched by nearly any other metal coating. Primarily, gold plating can help in these three properties:
What are the Qualities of Gold Plating?
Highly malleable, incredibly durable, and immune to the effects of water and oxygen, gold is not only aesthetically pleasing but highly useful as well. These beneficial qualities make gold plating a necessity in the aerospace industry.
Gold can be found in a wide variety of aerospace materials and machinery. From small components like electrical wiring and spacecraft circuit breakers, to encasing entire satellite bodies, gold is incredibly versatile. While it's full list of benefits and qualities rather lengthy, here are three of the biggest ways gold plating can be a highly useful asset in aerospace manufacturing.
Mechanic
On a surface level, mechanics can be significantly improved with gold plating. When plating gold for aerospace use, it is important to remember the extreme and unpredictable physical conditions that space brings.
Machine pieces that experience a high amount of wear benefit greatly from gold plating. Gold's flexibility combined with its near indestructability make it highly resistant to damage that may come from extended use or general wear. Gold plating also increases the hardness of mechanics, causing a much higher abrasion resistance. This hardness also protects underlying metals from future wear.
Gold is also the least reactive of all metals. The low reactivity helps improve longevity, as gold is highly resistant to corrosion making it ideal for areas with high humidity or moisture levels, typical aerospace conditions.
Gold is highly resistant to extreme temperatures as well, as it acts as a "heat shield" for the metals and components below it. Due to the highly reflective properties of gold, it also is more resistant to solar radiation. This causes satellites and other aerospace machinery to absorb heat less quickly, allowing them to operate much longer without needing to cool.
Electric
Aside from its material strength and durability, the benefits of gold plating for the aerospace industry do not stop there. The improved strength of the products being gold plated also benefits its electrical abilities. Compared to most other metals, gold is a superior conductor. This makes it a highly effective plating solution for electrical components.
The high thermal conductivity of gold also makes it a great plating option for electrical parts, as it prevents overheating. On top of this, the physical strength of gold helps increase the longevity of electrical parts by protecting them from corrosion, wear, and oxidization.
Aesthetic
Due to its durability and lustrous color, gold makes for an attractive and long-lasting finish. The high abrasion resistance not only makes for great protection of mechanical and electrical parts, but also an aesthetically pleasing finish. The shimmering texture also makes for a higher rate of visibility, and even allows some satellites to be visible in the night sky.
As the focal point of an endless number of fairytales and sci-fi epics, there cannot be a more suitable aesthetic for aerospace machinery than gold. The cosmetic improvement is an added bonus that comes with the increased hardness and durability of gold.
Choosing the right gold plating company for your needs is easy - AOTCO is here to help. Our compliance can be utilized across multiple industries that require metal finishing services.
AOTCO is NADCAP accredited and holds the following ISO and AS Certifications:
ISO 9001:2015
ISO 13485:2016
AS 9100:2016
Our team of metal finishers and engineers are ready to tackle your next challenge. Questions about our services or need help with your next gold plating job? Please contact the professionals at AOTCO today by calling (888) 275-0880.