Why Gold Plating for Aerospace?
Posted by AOTCO on July 17, 2017
For anyone in the Aerospace industry, gold plating is essential, as it provides functionality, practicality,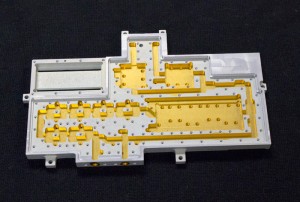 and effectiveness in its applications. AOTCO is a Massachusetts-based company that has been supporting these requirements and needs since 1975. On top of offering superior quality management systems, gold plating simply provides aerospace products benefits unmatched by nearly any other metal coating. Primarily, gold plating can help in these three properties:
Mechanic
On a surface level, mechanics can be significantly improved with gold plating. Gold increases hardness which improves the wear, temperature, abrasion, and corrosion resistance that might occur on certain pieces of equipment.
Electric
The improved strength of the products being gold plated also benefit its electrical abilities. Improved solderability, conductibility, contact resistance, and shielding are all changes that occur to gold plated electrical components.
Aesthetic
Because the metal is resistant to surface damages, gold plating provides an attractive finish. Though not entirely necessary a product, cosmetic improvement is an added bonus that comes with the increased hardness and durability of gold.
Choosing the right gold plating company for your needs is easy when AOTCO is available. Our compliances can be utilized in nearly all businesses that require our metal finishing services, including AS 9100:2009 which is specific to companies providing products and services to the Aerospace industry.
With more questions about our services, please contact the professionals at AOTCO today by calling (888) 275-0880.