Looking for Reliable Gold Plating?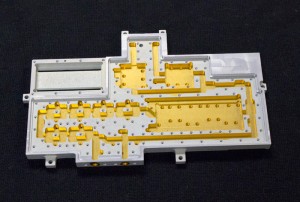 One of the most tried and true practices is gold plating when it comes to a variety of industrial metal needs. Gold plating is a process that's generally done to a type of metal to alter it in some way. Although a soft metal, gold is exceptionally durable and a good conductor, making it perfect for a variety of projects. At Aotco, we offer reliable gold plating services for all your aerospace, optical, medical, telecommunication, and electronic industrial needs.
Lots of Choices
Our services are unique because we offer a variety of plating services based on your organization's specifications. We offer three types of gold plating - Type I, Type II, and Type III. These types vary based on the percentage of gold minimum. Type I is 99.7%, Type II is 99.0%, and Type III is 99.9% gold minimum. These also correspond to a Grade (A, B, C, or D) depending on maximum Knoop. No matter your specifications, you can trust that our certified professionals will deliver reliable gold plating services.
Why Gold Plate?
Gold plating is necessary because it changes the composition of the metal on the outside. It allows it to be more durable, more conductive, and more solder-able. Additionally, gold is extremely resistant to high temperatures, and plating your metal in it can make it more resistant to tarnishing as well.
In the world of electronics, for example, copper is traditionally gold plated to increase conductivity. Direct gold-on-copper, however, can cause tarnishing when the copper atoms diffuse through the gold. Applying a "barrier" metal between the two can aid in preventing tarnishing and oxide formation.
Reliable gold plating is essential for a variety of businesses, including aerospace technology and electronics. When you rely on a process for your business, you want to find a reliable, high-quality vendor. Here at Aotco, our staff dedicates their time to providing this service. For more information, give us a call at 1-888-275-0880.