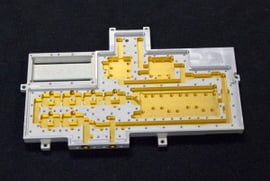 Electroplating Tips
At AOTCO we manage new electroplating jobs daily, each with their own unique specifications. To ensure consistent quality and customer satisfaction, we provide our customers clear communication about our Electroplating processes, turn-around times and quality control.
What is Electroplating?
Electroplating, oftentimes just referred to as plating, is the process of using electrodeposition to cover another object in a layer of one or multiple metals. The process takes an anode (the metal to be used for plating) and applies it directly to the surface of a cathode (the part being plated).
During this process the anode and cathode are both placed in an electrolyte chemical solution and are exposed to consistent electrical charge. This charge causes negative ions to move the anode and bond with the positive ions of the cathode, plating an even metal coating around the desired part.
What Materials can be Electroplated?
Electroplating can put one or multiple metals onto the surface of an object. These different metals are often layered in a way that maximizes the strength and conductive properties of the respective metals. AOTCO specializes in a wide variety of materials options that include but are not limited to:
Iron and Iron alloys
Steel and Steel alloys
Copper and Copper Alloys
Aluminum Alloys
Exotic Materials: Inconel, Kovar, Tellurium, Magnesium, Nickel, Lead & More!
What Should be Done Before Electroplating?
What Properties do you Need?
Before submitting parts to be electroplated, you should be able to determine what chemical and physical properties you want your components to have. Do you want them to be conductive? Brittle? Magnetic? Stiff? Or Malleable? Think about the metal's properties and the recommended industrial application. Different metal finishes provide different benefits and AOTCO's team of engineers and platers can answer your questions to ensure optimal performance.
Clean Your Parts!
It is essential to our electroplating process that all cathodes we receive are clean. Oftentimes oils and coolants can be left on components, either dried on the surface or within blind holes, and this can cause unwanted chemicals to end up in our tanks, potentially damaging equipment or impacting the finish quality. To avoid these potential issues, we thoroughly inspect and clean all parts prior to plating
Account for Build Up
One of the most important factors in customer satisfaction and the development of high-quality products and services is to make sure, before electroplating and metal finishing, the design of the product has been optimized for the required job. Electroplating has an irregular plating distribution; therefore, one must make allowances for edge and corner buildup of material.
For example, if we were to electroplate a steel rod, the plating over the surface of the rod will be slightly thicker at the ends. If the surface of the rod has a .001" thick layer, the plating on the end will be .002"-.003" thicker at the ends due to an uneven charge distribution. It is important to account for these build ups and reflect them in your purchase orders.
Electroplating - Watch for Surface Holes
Holes also present a challenge. Electroplating will not plate all the way into a hole that is less than ½" deep and .100" diameter wide. As the hole becomes larger, the coverage will increase. The same is true of Electroless Plating. Electroless plating can plate uniformly within .000020" or less on all surfaces but it will not plate in blind holes unless the solution is maintained in a constant state of turnover.
Account for Thickness
The thickness of your surfaces is going to increase, so account for double the plating thickness on flat surfaces after plating and account for the decrease in the threaded pitch diameters by four times the plating thickness. Hard coating builds up 50% into alloy penetration and 50% out on surfaces. You will want to specify the hard coating requirements in terms of thickness (.001thk, .002thk, etc.)
Provide Clear, Up-to-Date Specifications
When you are putting together pieces from several vendors, be sure to specify the alloy and finish from all vendors. If all information and specifications are provided, then we can complete jobs with ease and efficiency. If specifications are not followed precisely, the finish will not match on all the parts when the final project is assembled.
Other Things to Consider Before Electroplating:
What is the final use for your part? What environmental conditions will it encounter?

What is the geometry of your part? Uneven build up can occur on corners, bends, and threads...

What about drainage? Does a weep hole need to be added?
Let us know how we can help you with your next project.