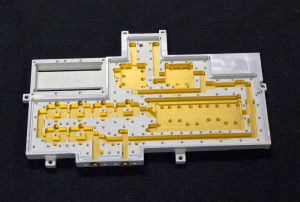 One of the most important factors in customer satisfaction and the development of high quality products and services is to make sure before electroplating and metal finishing, the design of the product has been optimized for metal finishing. Electroplating has an irregular plating distribution, therefore be sure to make allowances for edge and corner buildup of material. For example, if we were to electroplate a steel rod, the plating over the surface of the rod will be slightly thicker at the ends. If the surface of the rod has a .001" thick layer, the platting on the end will be .002"-.003" thicker at the ends due to an uneven charge distribution.
Holes also present a challenge. Electroplating will not plate all the way into a hole that is less than ½" deep and .100" diameter wide. As the hole becomes larger, the coverage will increase. The same is true of Electroless Plating. Electroless plating can plate uniformly within .000020" or less on all surfaces but it will not plate in blind holes unless the solution is maintained in a constant state of turnover.
The thickness of your surfaces are going increase, so account for double the plating thickness on flat surfaces after plating and account for the decrease in the threaded pitch diameters by four times the plating thickness. Hardcoating builds up 50% into alloy penetration and 50% out on surfaces. You will want to specify the hardcoating requirements in terms of thickness (.001thk, .002thk, etc).
When you are putting together pieces from several vendors, be sure to specify the alloy and finish from all vendors. If specifications are not followed precisely, the finish will not match on all the parts when the final project is assembled.
Let us know how we can help you in your next project. Contact us at 888-275-0880 or 978-667-8298 for more information.